Men's Featured Axe Throwing Jerseys
Women's Axe Throwing Featured Jerseys
Packaged sets with added discounts!
Quick and easy way to sponsor jerseys?
Taking advantage of our Virtual Gear Gift Card. The recipient can use this card everywhere on our site and be limited by your pre-set amount.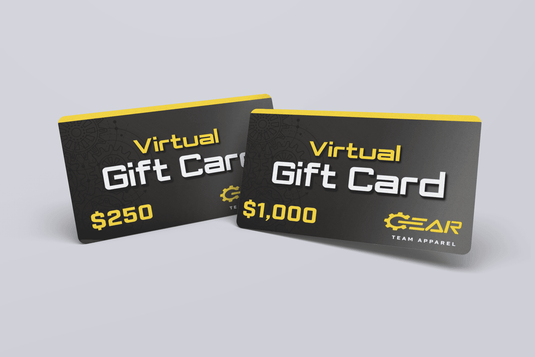 Checks Every Box!
The quality that Gear Team Apparel is able to produce should be the standard for any company that produces custom products. As a professional team we expect the highest quality products, customer service, attention to detail. Gear Team Apparel checks everyone of those boxes and more. Their ability to meet our needs is unmatched, we look forward to continuing this partnership for years to come.
5 Stars!
As the coach for multiple teams, I have bought heaps of uniforms from Gear Team Apparel the uniforms have been a big hit with everyone. The quick service, quality, and customer service are top tier. I have recommended them to many of my friends, family, and work colleagues as they are the best I have dealt with. I plan to be in business with Gear Team Apparel for a long time.
Absolutely Stood Out!
The girls and parents loved them.
We absolutely stood out. During the game, I guess our jerseys were the talk amongst the parents – of the other teams… they loved our jerseys.
It's too good to be true!
The custom designer is by far one of the most comprehensive, dynamic, and easy to use designers. I spent weeks looking at many different services and when I saw the Gear my initial thoughts were, "it's too good to be true" but when it came on time and I opened it up, I was more than satisfied with the product and I still wear it all the time as well as all my players.
Extremely Innovative
You all have an extremely innovative site. So easy to use and the customization options seem endless.
Brilliant Site and Service.
I used you all last year too and our jerseys were all the hype at the lanes.

UNIQUE!
I accidentally stumbled upon this company. I instantly fell in love with the custom building tools that you can use to build your own product. The great thing about this company is that your apparel is UNIQUE to your team.
Customer For Life!
We have an event every year. It had been a nightmare until I found Gear! Now for the last two years, our apparel had been awasome and on time. We will never use anyone else again! Gear Team Apparel Rocks!
Custom Axe Throwing Jerseys
Gear Team Apparel carries a complete full line of custom axe throwing jerseys. With Gear, you can build your custom jersey in minutes using our 3D builder. Using our effects tab. You literally can make a million designs using one template. Whether you are buying for a recreational team, high school, or a professional team. We got the right GEAR for you!